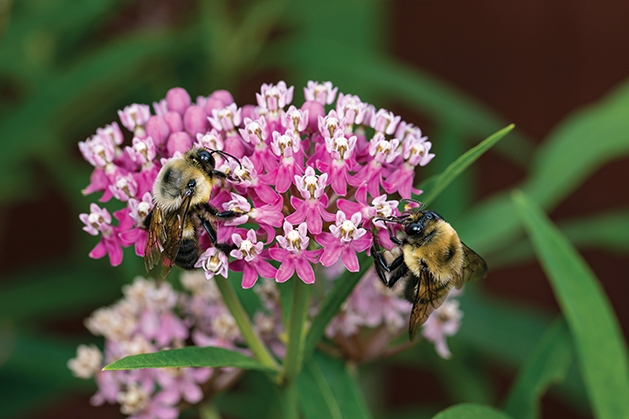 With the environment in mind, more people turn to organic landscaping and bee-friendly lawns.
When Betty Goodman moved into her current home in Edina in 2017, she knew she wanted to be very intentional about the landscaping. Her property is across the street (and uphill) from a wetland, and she didn't want any lawn care to disturb the wetland ecosystem.

Beyond her personal concerns, Goodman is also an environmental lawyer and has more awareness than the average person on the impact of pesticides and chemicals. "I talked to some [lawn care companies] that do a lot of work in our neighborhood, and I told them my concerns about not putting anything on my lawn that would in any way harm the environment there," Goodman says. "And I was given answers like, 'Oh, our artificial fertilizers wouldn't go down into the wetland because they're granular, and they stick to the ground.'" Goodman was dissatisfied with these responses.

After several dead-end conversations, she came across Minnehaha Falls Landscaping. She invited Russ Henry, the company's president, over to discuss her lawn. "He came over, and I realized that … his standards are even higher than mine," Goodman says. "I hired him, and he's been working for me ever since."

What was different about Henry and his team's approach is a commitment to lawn care without chemicals or pesticides—including herbicides, insecticides, fungicides and more. "Any of the '-icides' are not invited to our garden party," Henry says.

Henry is trained in soil microbiology and, for three years, studied under Elaine Ingham, M.D., one of the world's leading soil microbiologists who helped create the organic standards for the U.S. Department of Agriculture. Henry has also spent the past five years being mentored by Chip Osborne, one of the world's leading experts on organic turf transitions.

Henry took all this studying and expertise and wanted to give it a practical outlet, through local landscaping and education. So, in 2005, he established Giving Tree Gardens, an organic gardening company, and in 2017 launched Bee Safe Minneapolis, an advocacy and education organization that focuses on bee-safe landscaping practices. Also in 2017, Henry and his wife bought Minnehaha Falls Landscaping, a 65-year-old Minneapolis-based company.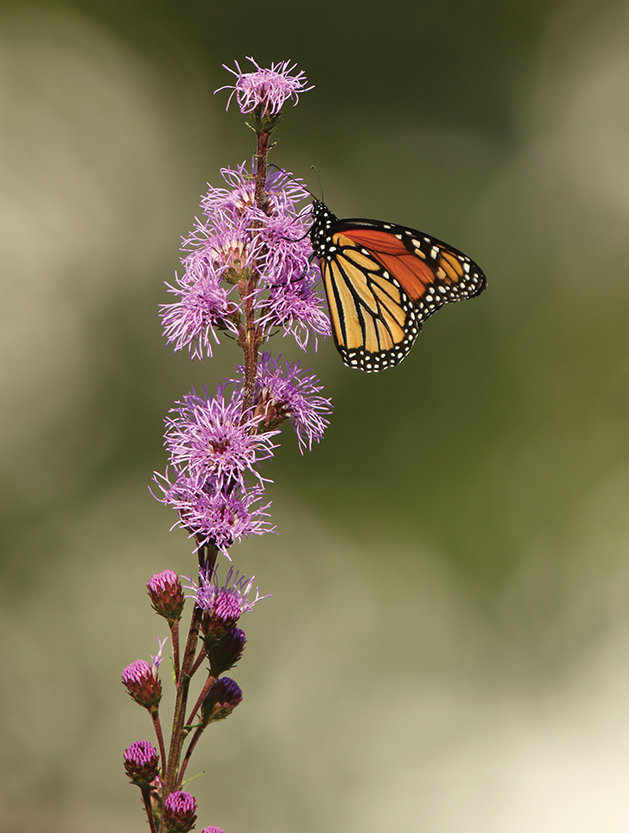 Photo by: iStock.com/wingbeats551

The company's focus on organic landscaping and bee-friendly lawns attracts those looking to maintain their yards and mitigate weeds without chemicals and pesticides. (Additionally, Minnehaha Falls Landscaping has a landscape architect on staff, and they build walkways, patios, decks, retaining walls and fences in addition to whole-yard landscape re-design.)

"For us, organic management is a commitment to the health and safety of our clients and staff," Henry says. "As well as a commitment to the health
and safety of the ecosystem."

And how do they achieve beautiful lawns, naturally? "First and foremost, we focus on growing a thick, healthy turf," Henry says. "So, we'll use aeration, over-seeding and organic fertilizer, as well as liquid compost extract." They also do some hand-pulling and mechanical weed removal. But Henry says what it truly all comes down to is developing and maintaining soil health. He notes that healthy soil microbiology helps turf thrive—and that a thriving, abundant lawn naturally pushes weeds out.

"When I talk about healthy soil, I'm talking about a collection of living organisms … [and] having a balanced community of living microscopic organisms in the soil," Henry says. "A healthy soil system is based on fungi and bacteria. They are the predominant life forms in a healthy soil system."

"Fungi and bacteria are very much responsible for creating soil structure," Henry says. "And soil structure is what allows soil to act like a sponge for water to soak up the rainwater … Fungi and bacteria are also responsible for cycling the nutrients that plants need."

Soil health has been a huge focus for Goodman's lawn. When she purchased her home, she did some significant updates and renovations, which involved digging a foundation for an addition in the backyard. "When they did that work … they didn't segregate the topsoil from the under soil," Goodman says, noting that in her area of Edina, the undersoil is very sandy. During the digging and renovation work, this sandy undersoil got mixed in with her topsoil, impacting the quality of the soil in her yard and gardens.

"The soil in my gardens and yard in the backyard, it's extremely thin," Goodman says. "There's not any organic matter in it." She says she wasn't "smart enough at the time" to realize that or the impact it would have longterm. She had bushes put in after her renovation and they "just didn't thrive as much as I wanted it to. And I was kind of puzzled. And then I started realizing how sandy the soils were," she says.

To help improve the quality of the soil in Goodman's yard and gardens, Henry and his team put a mulch/compost mixture on her garden several times a year, as well as applying liquid compost and organic fertilizer to her lawn. This brings organic matter (those essential bacteria and fungi) back into the topsoil. While it can take months (and in some cases, years) to fully achieve healthy soil, Goodman says after each application, she sees improvement. "The next day, or after the next rain, I can tell an immediate difference."

Through these mulch and compost applications, Henry and his team are rebuilding the soil health in Goodman's yard from the top down—all without chemicals and pesticides. "I have a dog, so I'm particularly happy that the dog is not running around in chemicals," Goodman says.

But it's not just her dog who gets to enjoy the fruit of Henry's labor. "Because of the wetland, there [are] a lot of butterflies and bees and birds—it's a very wildlife-ridden neighborhood for being on top of the city. So [my garden and chemical-free lawn] just supports them," Goodman says. "I can see the things that I've planted that they come and use those plants to eat. And in the course of eating, they pollinate."
What is a pollinator or bee-friendly lawn?
At Minnehaha Falls Landscaping, Henry and his team not only focus on organic landscaping but also developing pollinator-friendly lawns and gardens.

In 2018, the University of Minnesota released standards for creating and maintaining bee-friendly lawns. A bee-friendly lawn involves low-growing flowers mixed in with turfgrasses that provide food (nectar and pollen) for pollinators.

According to Henry, this is a simple set of plants that create turf that's a friendly environment for pollinators but also makes a great family-friendly lawn. He says bee lawns are "essentially a very simple set of plants that create a turf that you can walk on, that you can lay around on, play, kick the ball on, that you can have a picnic on." Bonus? You don't have to mow it if you don't want (though choosing not to mow does mean you'll have a six-to-eight-inch lawn) and it doesn't require any fertilizer, herbicides or irrigation.

So, what plants are in a bee-friendly lawn? Just four simple ingredients.
Dutch White Clover: This flowering plant feeds 57 species of native Minnesota bees. They're drought tolerant and can bring nutrients to your soil, which reduces the need for fertilizing.
Fine Fescues: The only grasses in this four-plant mix, fescues are Minnesota-native grasses that grow six to eight inches tall. In a bee lawn, there are typically four varieties of fine fescues in the mix.
Prunella Vulgaris: Commonly known as "self-heal," this Minnesota-native perennial blooms throughout the summer, producing lavender or white flowers. It's known for its many medicinal qualities—plus, it helps feed 24 species of native bees.

Creeping Thyme: This plant spreads in an underlayer under the other plants to help create a multi-layer canopy and helps mitigate weeds.
While it might seem like a big undertaking to transition your lawn from "normal" grass to this four-plant mix, the state of Minnesota actually offers a grant program for homeowners to make this transition. The Lawns to Legumes pilot program offers a combination of workshops, coaching, planting guides and individual support grants for installing pollinator-friendly native plants in residential lawns.
Minnehaha Falls Landscaping,
4549 41st Ave. S., Mpls; 612.724.5454;
minnehahafallslandscape.com
Minnehaha Falls Landscaping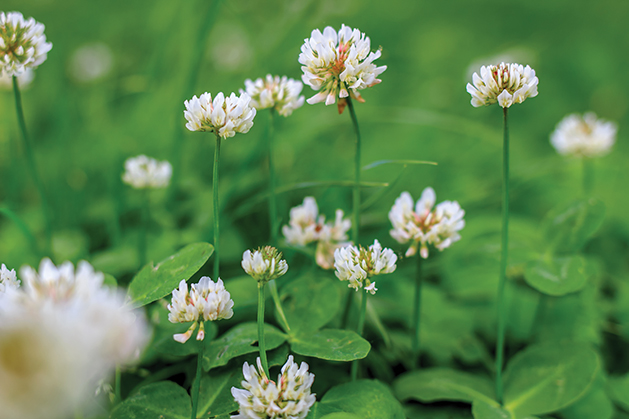 Milkweed is the primary home and food of the caterpillars that eventually become monarch butterflies. Milkweed plants grow to be about 2 to 4 feet tall and produce both clusters of flowers and pods, which split open as the plant matures each year, releasing fluffy white seeds. Butterfly weed, common milkweed and whorled milkweed are all species of milkweed.
Little Bluestem is an ornamental perennial grass that forms in dense mounds. The slender blue-green stems grow up to 3 feet tall by September, then transition to a reddish-bronze with white seed tufts in the fall—providing a great backdrop for prairie flowers.
Prairie Smoke gets its name from the appearance of its wispy seedheads. Its clusters of reddish-pink, maroon or purple flowers sit atop 12–18-inch stems. This perennial blooms in late spring and early summer—one of the earliest bloomers in this collection of plants.
Purple Prairie Clover features thimble-shaped flowers that sit atop a stems with delicate foliage. This herbaceous perennial grows 1 to 3 feet tall.
Bee Balm is an herbaceous, long-blooming perennial that produces bright, vibrant flowers which grow 2 to 4 feet tall. Part of the mint family, its leaves are also highly aromatic.
Joe-Pye-Weed is a perennial wildflower, which is in the sunflower family and grows 4 to 8 feet tall. It produces clumps of tiny, sweet-smelling purple and pink flowers at the top of its stalky stems.
Meadow Blazing Star features purple stalks that grow over 4 feet tall, making a bold textural statement in your garden.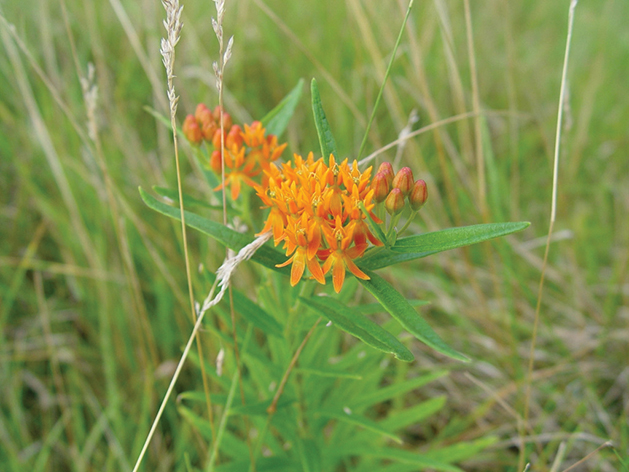 Butterfly Weed (Asclepias tuberosa)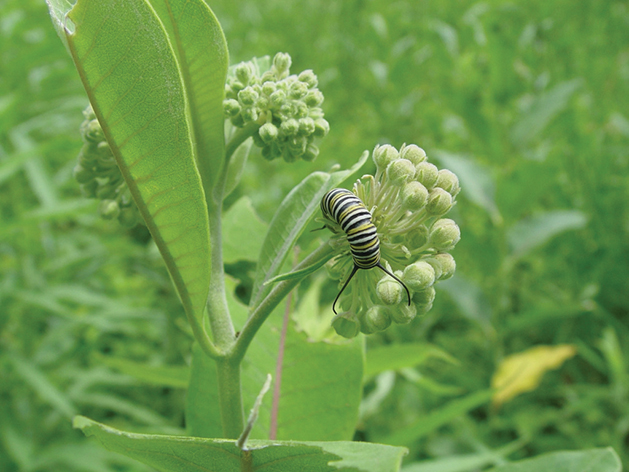 Common Milkweed (Asclepias syriaca)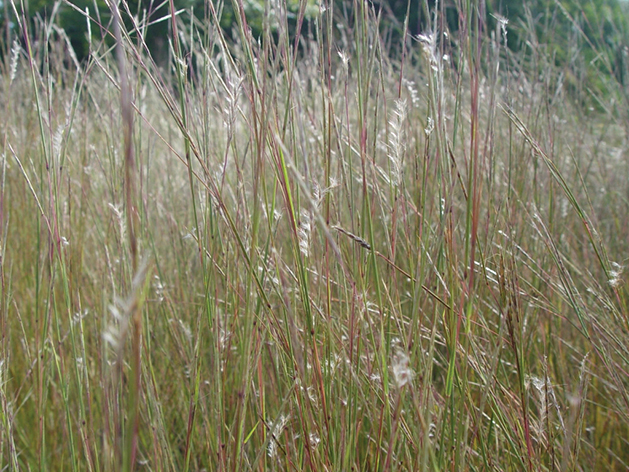 Little Bluestem (Schizachyrium scoparium)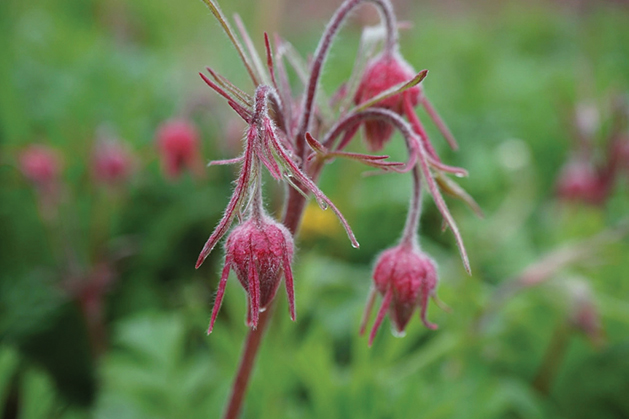 Prairie Smoke (Geum triflorum)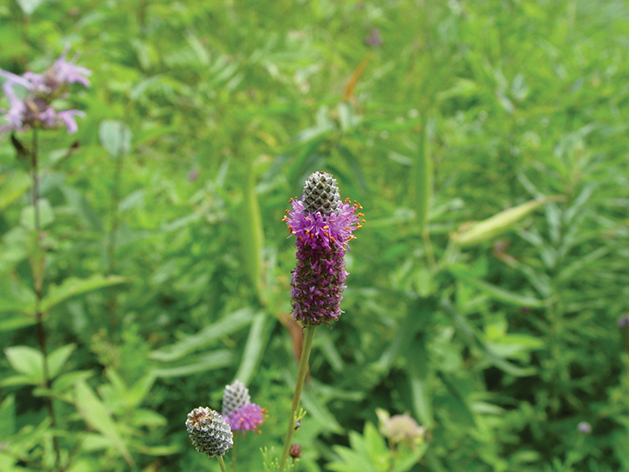 Purple Prairie Clover (Dalea purpurea)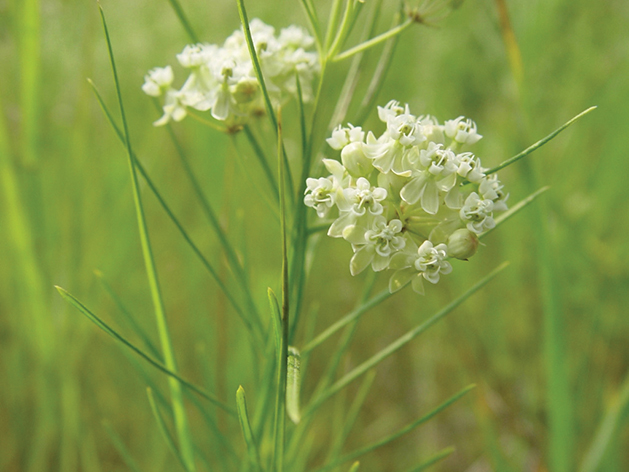 Whorled Milkweed (Asclepias verticillata)
Photos: The Plant Conservation Program at the Minnesota Landscape Arboretum
Pollinator Gardens
Not ready for a full lawn overhaul? You can still use your yard to create a pollinator-friendly environment. By planting a pollinator garden—which can be anywhere from a couple of square feet to hundreds—you can create not only a beautiful landscape of native grasses, plants and flowers, but you can also create an environment for bees and butterflies to get their daily meal. The Plant Conservation Program at the Minnesota Landscape Arboretum recommends these six Minnesota-native plant as a starting place for home gardeners—and Henry adds a few more favorites to the list. Once established in the right conditions, they need little water or fertilizer to thrive. 
The Plant Conservation Program at the Minnesota Landscape Arboretum
3675 Arboretum Drive, Chaska; arbconservation.cfans.umn.edu
MLA-PlantConservationProgram