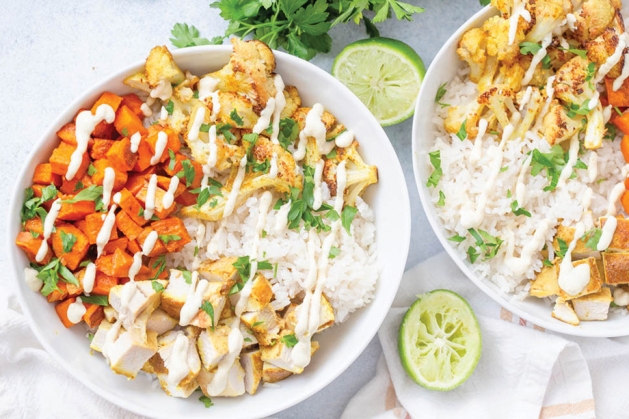 Rice bowls are one of my go-to dinners for our family; my kids love assembling their own bowls. These curry chicken bowls are so full of flavor and perfect for family dinner and meal prepping. They start with coconut rice, which is topped with curry-marinated chicken breasts, roasted sweet potatoes and cauliflower, garbanzo beans and finally topped with a curry yogurt sauce.
Curry Chicken Rice Bowls
Prep Time: 30 minutes
Cook Time: 45 minutes
Serves: 6
Curry Chicken:
2 Tbsp. oil
1 Tbsp. dijon mustard
2 Tbsp. honey
1 Tbsp. curry powder
1/4 tsp. cayenne pepper
1/2 tsp. salt
2 cloves garlic, minced
1.5 lbs. boneless skinless chicken breasts
Roasted Veggies:
1 large sweet potato, peeled and diced
1 head of cauliflower, chopped
2-3 Tbsp. olive oil
1 tsp. curry powder
1/2 tsp. garlic powder
1/2 tsp. salt
Coconut Rice:
1 tsp. coconut oil or canola oil
2 cups jasmine rice
1 3/4 cup water
14 oz. can coconut milk
1/2 tsp. salt
Curry Yogurt Sauce:
1 cup plain Greek yogurt
1 tsp. curry powder
1/4 tsp. garlic powder
Juice of 1 lime
1/4 tsp. salt

Other:
1/2 cup fresh cilantro chopped
14 oz. can garbanzo beans, drained and rinsed
Combine all chicken marinade ingredients in a small bowl and pour over chicken, coating all sides. Let marinate for at least 1 hour, up to overnight, in the refrigerator. Line two baking sheets with aluminum foil and spray with cooking spray. Place the chicken on baking sheets and set aside. Preheat the oven to 400 degrees F. Toss the sweet potato and cauliflower in olive oil, curry powder, garlic powder, and salt. Spread the veggies out on two prepared baking sheets and roast in the oven for 40 minutes, tossing and rotating pans after 25 minutes. During the last 15 minutes, add chicken and bake until cooked through, about 10-15 minutes depending on the thickness of your chicken breasts. Once chicken is cooked, let cool slightly and then dice into small pieces.
While the veggies are roasting, make the rice. Add the coconut oil to a medium pan over medium-high heat. Add rice, water, coconut milk and salt. Bring to a boil, then reduce heat to low and cover. Simmer for 15-20 minutes, stirring often, until rice has absorbed most of the liquid. Once done, remove from heat and keep covered until ready to serve.
Combine all ingredients for curry yogurt sauce in a small bowl and whisk well. (Can be made up to 2 days in advance.)
Place coconut rice on the bottom of a bowl and top with chicken, roasted veggies, garbanzo beans and cilantro, then drizzle with curry yogurt sauce. Enjoy!
Contributed by Taylor Ellingson, a local cookbook author and food blogger at greensnchocolate.com. Find her @greensnchocolate on Instagram.