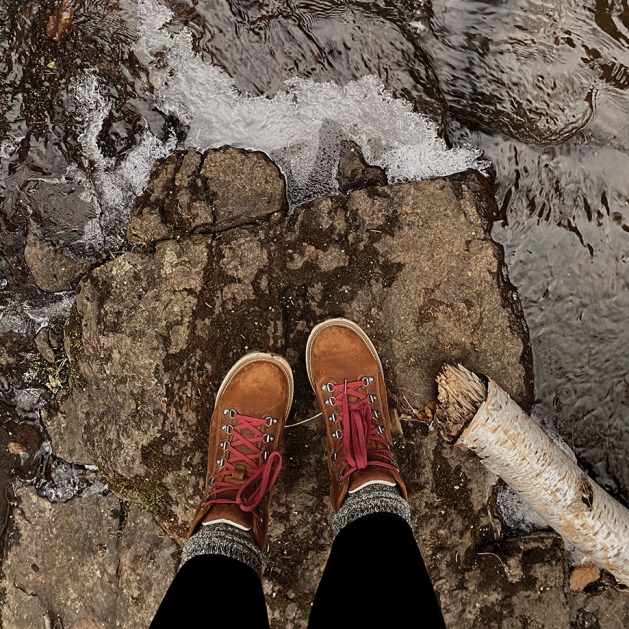 Local travel blogger shares why Lutsen is her favorite weekend travel destination.
If a global pandemic brought one good thing, it was encouraging us to explore the beauty close to home. Though the Midwest may not have the towering mountain ranges or endless oceans of the country's top destinations, there's so much to discover and enjoy within
a day's drive of the Twin Cities.
Exploring and sharing these nearby treasures is a challenge that Lizanne Dooner, an Edina-based travel blogger at Lizanne Lately, has embraced wholeheartedly. We connected with Dooner to hear her perspective on one of Minnesota's favorite vacation destinations, Lutsen, just in time for waterfall season. Lutsen is a small mountain town nestled in the Sawtooth Mountains on Minnesota's North Shore that boasts epic views, hikes, stays, shopping and activities. And though Lutsen is traditionally known for its premier ski mountain, Dooner offers insight into how to make the most of Lutsen year round.
Enjoy our conversation with Dooner below, and don't miss her North Shore drive itinerary and breakdown of some other Midwest travel destinations.
Answers have been edited for length and clarity.
What were your first impressions of Lutsen?
Anywhere on the North Shore is beautiful, and I think when you get up to Lutsen you start getting into the cream of the crop of the North Shore. It's nice because it is a year-round destination. There's something for you to do in every season … It's a huge ski town, but I would say within the last couple of years [it's] been opening up with more to do all year round, even for people who don't ski. I love Lutsen, and I don't ski at all. You can still go hang out at the mountain. [Lutsen has] live music, a winery, coffee shops. It's starting to blossom into its own. Most times, people would drive all the way to Grand Marais … but I think Lutsen is becoming a little gem, too.
I love how you introduced Lutsen as a year-round destination.
Of course, everyone knows about Lutsen as a winter skiing destination, but why do you think people should visit Lutsen in the spring?
Lutsen is strategically [located near] several state parks within a short driving distance that have great waterfalls. When the snow starts to melt, you want to be there. Cascade River State Park, Temperance River State Park … and there [are] a couple others just along the highway. Spring is a great waterfall season [with] the rivers rushing. And also … hiking is just great all year round. The trails are just really well taken care of, but also you have a sense of community up there, [where locals] will let you know what trails might not be safe as the snow is melting.
What are some of the primary activities on Lutsen Mountain?
They have the gondola ride … so you can go up the mountain. There's great views, and they have a restaurant and shop up there … and it also connects to the Superior Hiking Trail. They also have the alpine slide. You can take the alpine slide down—that's fun, especially for kids … When you go up [the mountain], you can take as much time as you want. Whether it's a quick trip—see the views, grab a bite to eat—or you know, go up there, have lunch and do some hiking, too. You can spend an hour to six hours up there … That's what I love about the North Shore: It's all about creating your own adventure.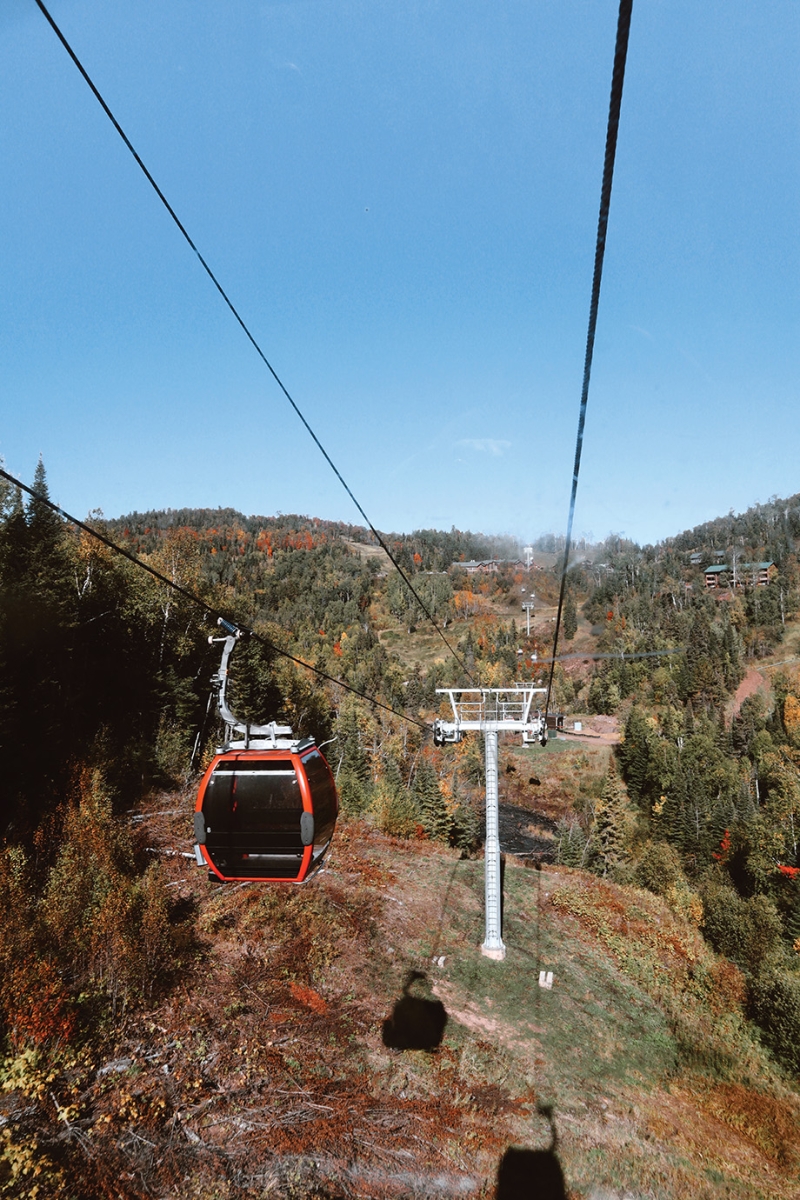 What was your favorite part of a trip up Lutsen Mountain?
The gondola … just hopping in and riding up the mountain and seeing the sweeping views of [Lake] Superior. You have Superior on one side and the forest on the other, and it's just breathtaking and so serene. You just stop and reflect on how beautiful Minnesota actually is. We're just so lucky to have this place.
Tell me about getting to Lutsen from the Twin Cities. It's pretty easy. Just straight up [Interstate] 35 … and right after Duluth you hit [Highway] 61 … It's a straight shot, and there's so many places to stop along the way. Some of my favorites are Palisade Head, Tettegouche State Park, Sugarloaf Cove … There [are] so many pull-offs and overlooks and beautiful spots that I always say [to] give yourself a lot more time. It takes maybe four hours to get there, but sometimes it takes us eight or nine hours to get there because we're stopping so much.
Where have you stayed in Lutsen and what did you love about the experience?
I stayed at the Lutsen Sea Villas. It was magical … Each villa is along the North Shore, so you literally just walk out and you're on the water. It's beautiful. We had a wood-burning fire stove; it was so cozy. We had a full kitchen, and we would make a fire and have this big window overlooking [Lake] Superior. We would wake up, and it would be a gorgeous pink sunrise right out our window. Where you check in, the community house … [has] a gorgeous pool and a large hot tub with beautiful huge windows. I went and sat in the hot tub, and it started snowing, and I was like, 'Am I in a Hallmark movie?' It was crazy.
Another option is right after Lutsen … North Country Cottages. There are three little, very cute cabins/cottages in the woods right in Lutsen. We stayed in a one-bedroom cabin—again gorgeous [with a] very cottagey feel. It had a big wood-burning fireplace. Very, very cozy [and] secluded.
What are some can't-miss places in Lutsen?
Definitely go to Fika Coffee; that's my favorite coffee shop. It's right in town, on the end of a little strip mall. The coffee is amazing—some of the best coffee in Minnesota. My favorite thing is the Maple Latte.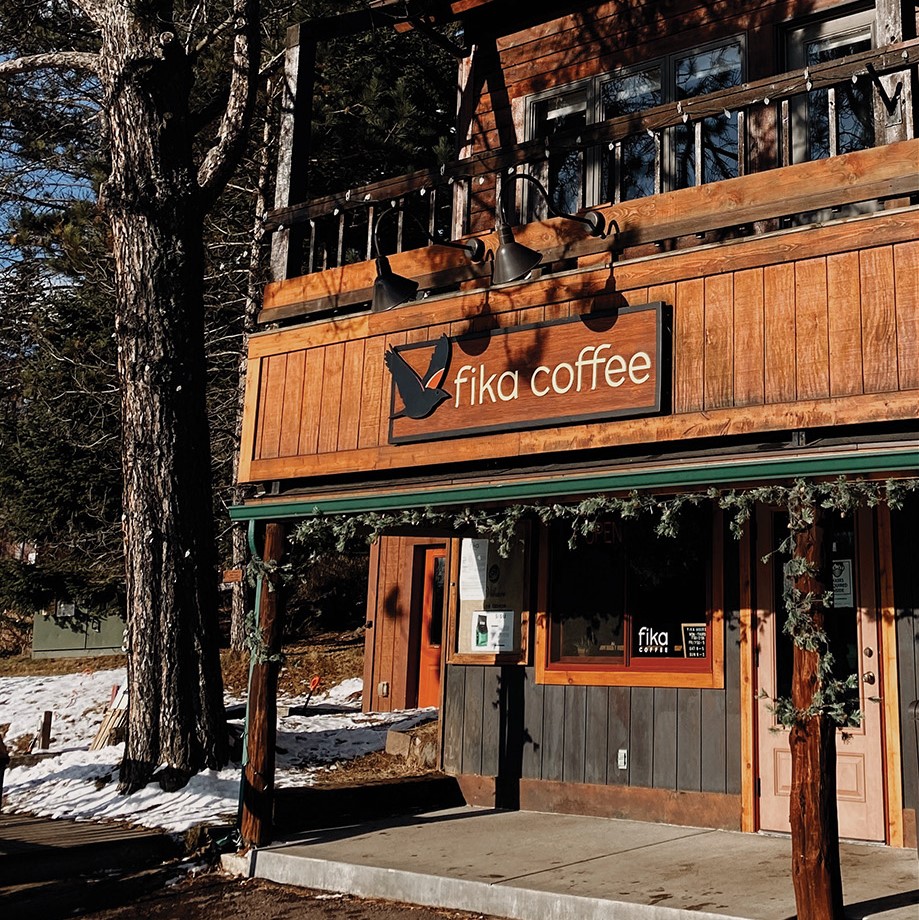 Lutsen Bucket List
Ski Lutsen Mountains, the largest ski resort in the Midwest (open by Thanksgiving weekend through mid-April, weather dependent).
Take the Summit Express Gondola up to Lutsen Mountains and have lunch at the Summit Chalet (open during the winter ski season and on weekends June–October) with a view of Lake Superior. The gondola is open year round—daily in the summer and winter and with limited hours in off-season (March–May, October–December).
Play a round at Superior National Golf Course (open spring through fall, weather dependant).
Shop at The North Country, a cute shop featuring local Midwest makers located on the same property as North Country Cottages
Enjoy live music and bites at Papa Charlie's (open daily in the winter and summer and on weekends in the fall and spring).
Ride the alpine slide at Lutsen Mountains (open daily June–September and on weekends in the late spring and fall).
Enjoy a hike on the Superior Hiking Trail (try Oberg Mountain Loop, Poplar River Falls or White Sky Rock).
Stock up on maple syrup at Wild Country Maple Products, located on a beautiful maple-lined path in Lutsen.
Visit Cascade River State Park and view five waterfalls during a half-mile hike on the Cascade River Lower Loop.
Stop in at North Shore Winery for a wine or cider flight and live music (open year round; see seasonal hours on website).
Take a day trip in Grand Marais and enjoy harbor views, shop downtown and book a massage with LutZen Massage Studios in Grand Marais. Or grab a bite at Fisherman's Daughter, enjoy a beer at Voyageur Brewing Company, then cap it off with ice cream at Superior Creamery.
Lizanne Lately
Facebook: Lizanne Lately
Instagram: @lizannelately