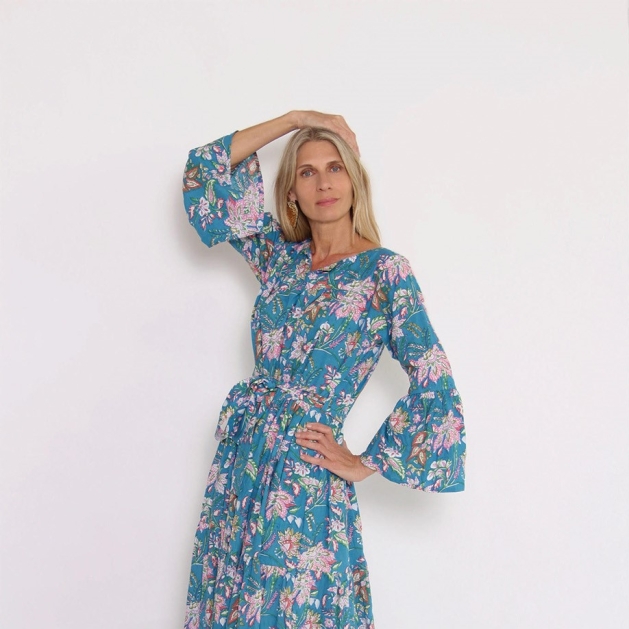 Minnesotan designs luxury resort wear collections.
Sanibel, Nassau, Corfu, Amalfi, Nantucket—each location conjures up a feast for the senses. There's the taste of salty sea air, the feeling of warm sand beneath your feet and the sight of gorgeous blue waters lapping on the shore. Jennifer Van Hofwegen aims to bottle up all those sensations with her destination-themed collection of luxury resort wear.
The Twin Cities native relocated from Florida to Edina last year to be closer to family. Since that time both she and her fashion line, CeCe Cabana, have been warmly embraced by the local community. "I've been welcomed into this world," she says. "I was pleasantly surprised … People up here really enjoy the idea of travel."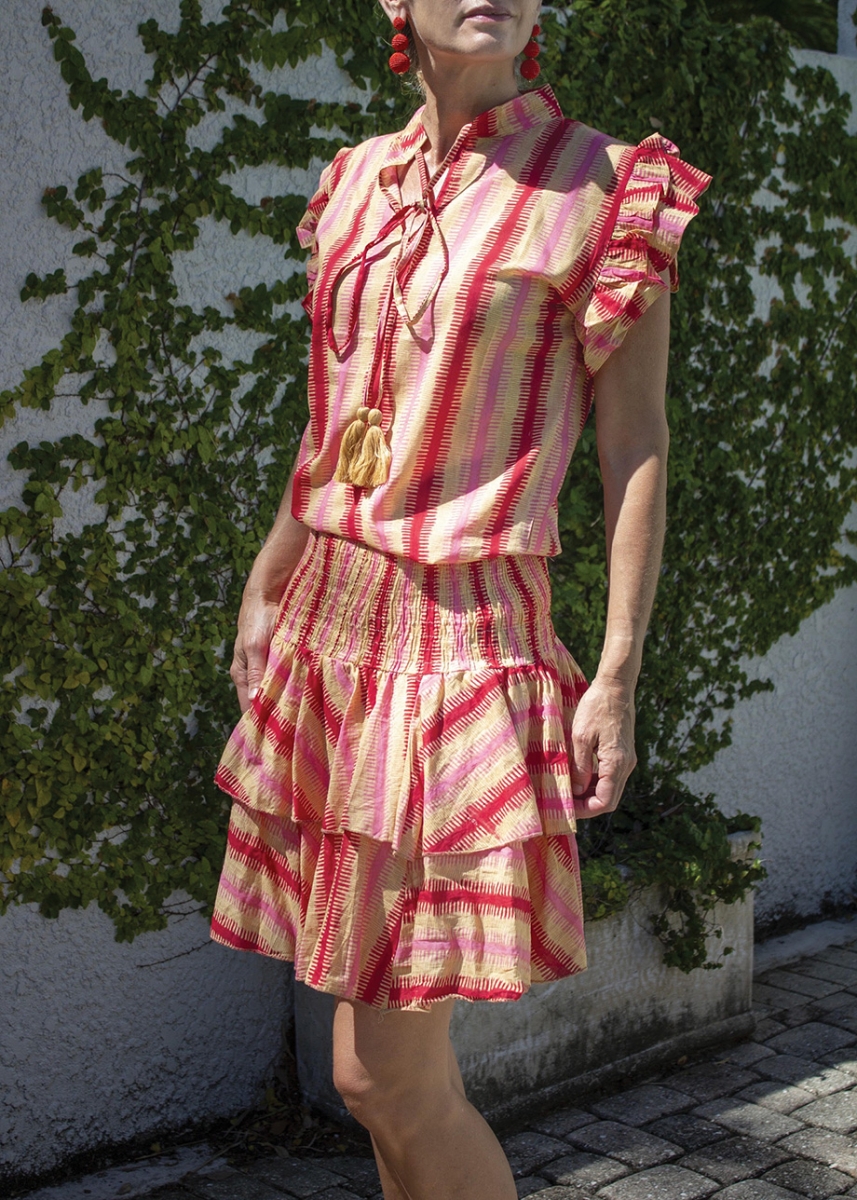 Van Hofwegen introduced her line to a Minnesota audience in July 2022 as a featured designer at a fashion show at the W Hotel in Minneapolis. Her designs—including colorful tunics, maxi dresses and wrap skirts—proved so popular that she landed the closing show of Fashion Week Minnesota in the fall. "It really feels like I launched my company last year," she says.
Though Van Hofwegen has long harbored a passion for interior design and fashion, it was a move to Florida that inspired her to dip her toe into the world of fashion design and start CeCe Cabana (named after her beloved pooch, CeCe).
"I was in a location where you need light fabrics, and I couldn't find anything I liked," she says. So, Van Hofwegen took matters into her own hands, designing a collection of patterns and sourcing artisans to bring her visions to life. She fell in love with the idea of hand-blocked printing, a centuries-old practice in India where designs are carved onto blocks of wood and then natural dyes are used to stamp the design onto fabric.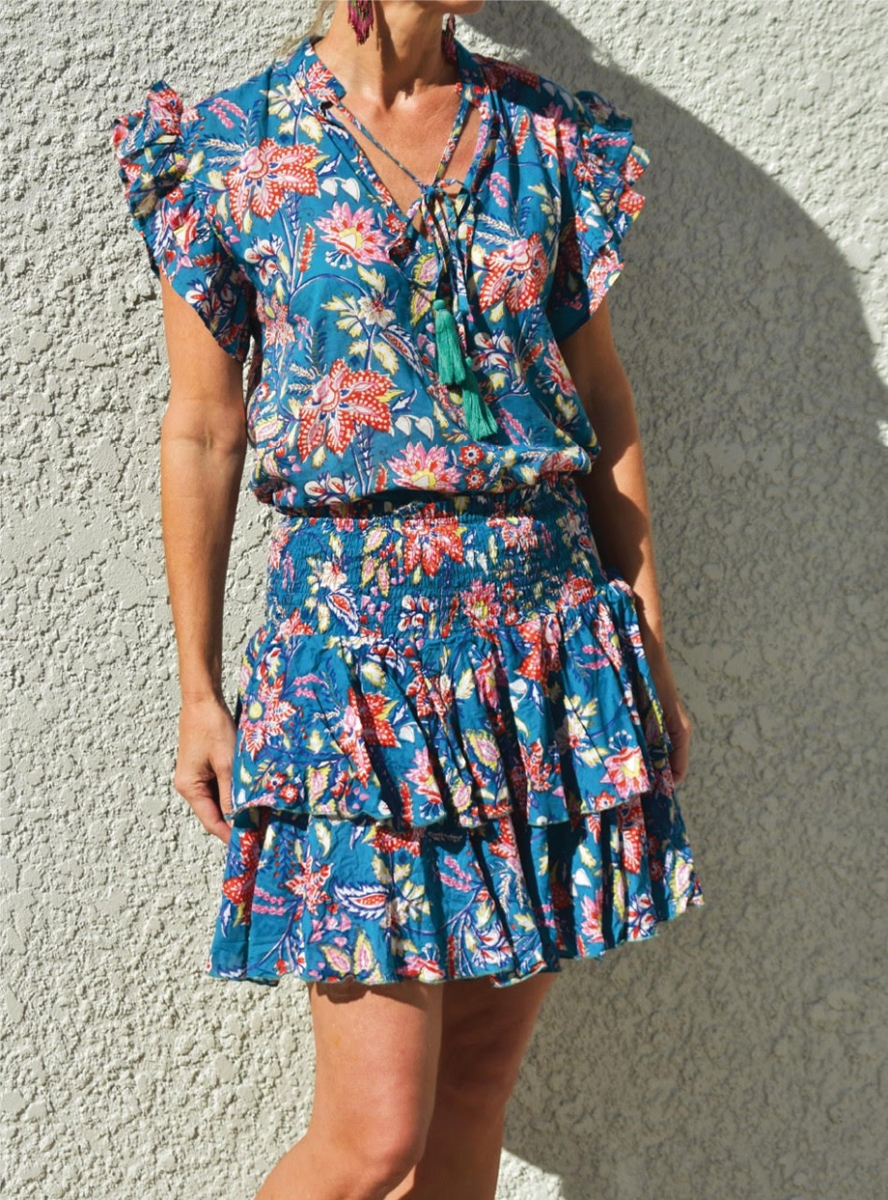 Van Hofwegen's fabrics and patterns are named after some of her favorite travel destinations—the result of a lifetime of global exploration, which informs her designs and gives it a global perspective. "I moved to Europe after college," she says. "I spent seven years working in Budapest and traveled every single weekend."
Van Hofwegen's goal for CeCe Cabana was to create a line of multi-purpose resort wear pieces, ideal for whatever a vacation may entail—from casual days to elegant evenings. "I wanted something a little more elevated," she says. A wrap skirt can be worn over a swimsuit for lunch, but it can also be dressed up for dinner. A maxi dress paired with a sweater is perfect for the plane ride to paradise and easily transitions to a sunset walk on the beach. But her designs aren't just for vacation; in fact, they're perfect for Minnesota summers and days at the lake.
But Van Hofwegen isn't stopping there. "I feel like there's a lot more I can do," she says. "I'm planning a party-wear look down the line." She's also considering how to expand her designs for colder climates, so people who love her designs don't have to wait for warm weather to wear them. "I think that's how Minnesota will influence my fashion," she says.
Cece Cabana
Instagram: @cece_cabana