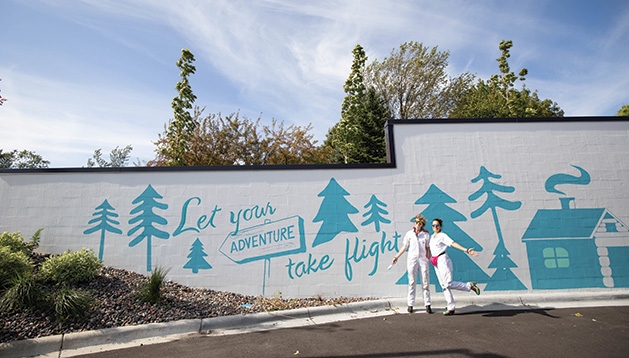 The story behind the mural on the wall of Caribou Coffee in Edina is as interesting as the mural itself.
Photo by:
Jessica mealey of studio 414
The story of the mural is as interesting as the mural itself. The mural in question is painted on the wall along the drive-through lane of the Caribou Coffee on Vernon Avenue in Edina. It uses images from Caribou Coffee's north woodsy design palate like cabins and trees and, well, a caribou. It also highlights the Edina High School hornet and, as it wanders along the wall, it offers opportunities to create your own "Insta" moments using hornet wings for an Edina-inspired selfie. The story of how Genevieve Fabiola Schaffer and Christi Williford came to be the artists behind this work of public art, starts with her job in the Minneapolis Public Schools.
Schaffer didn't study art in school beyond the usual art classes everyone takes. She focused on psychology and social justice. She worked for 18 years in the Check & Connect program in Minneapolis public school system. In that role she worked with students who were homeless or had insecure housing situations that made consistent school attendance and concentration on school work extremely difficult. She discovered that adding art projects to the sessions she had with the kids made it easier for them to talk to her. She also discovered that she was attracted to making art herself.
"The kids showed me that art was my real passion," Schaffer says. "I began incorporating it more and more into my life." One of the larger projects she did with a group of high school kids was an indoor mural.
"One of my neighbors worked for Caribou, and she told me that they wanted to do this mural for the wall next to the drive-through in Edina. She knew that I had done something similar with a group of kids and asked if I'd be interested in talking to them about the project," she explains.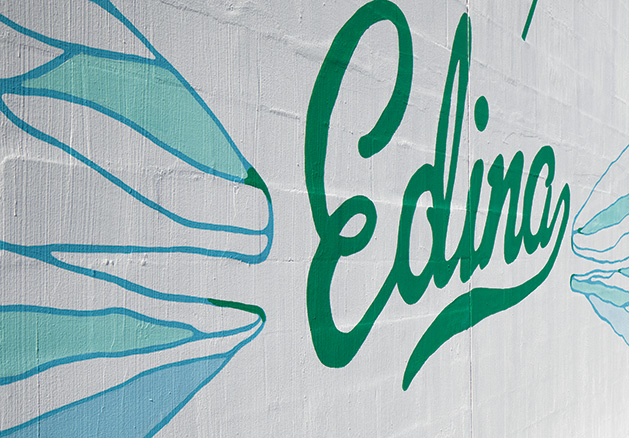 The retaining wall that the mural is painted on is actually the property of the city of Edina, so Schaffer had to negotiate with two patron groups to get the project approved. "Initially I wanted to do the actual painting of the wall with a group of local kids," she says. "But the final plan didn't get approved until near the end of summer and I wanted to start in September so we could finish before it got too cold to paint outside, so I had to do it without the kids." She hopes to do another big public space art with kids in the near future.
Working on the project with Schaffer is her office mate at the Northrup King Building, graphic designer and frequent collaborator, Christi Williford. The Northrup King Building contains the offices of over 300 local artists and is host to the Art Attack open house event and regular artist showcases. Unlike Schaffer, Williford grew up studying art. Her father is an artist and she remembers drawing and painting from an early age. She studied graphic design and scientific illustration in college. Williford used her graphic design skills to take Schaffer's drawings and scale them up to the dimensions of the wall. Williford also helped to paint the mural. "It was fun to get off the computer on onto the canvas," she says.
One of the most notable things about the mural Schaffer and Williford created is the opportunity it offers viewers to become immersed in the work themselves. "Caribou really wanted an interactive piece to the work," Schaffer says. That's why she created spaces in the work that encourage you to take a picture with the hornet's wings behind, above and around you. People, couples, even dogs have been transformed in social media posts and become part of the mural. "I was excited about the wings," Schaffer says, "because birds and wing-images are a feature of a lot of my work." In fact, her website is called idreamofbirds.com. Bringing wings into the design was a natural way for her to encourage people to interact with it.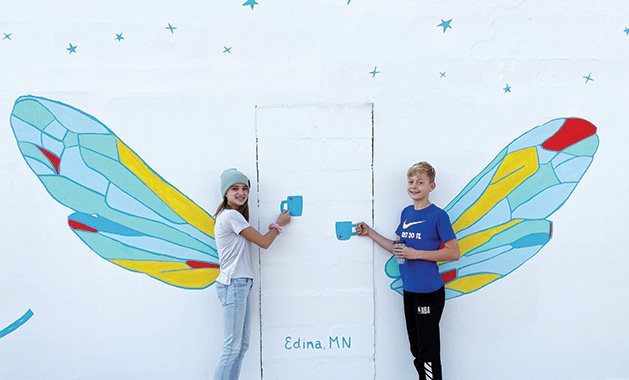 That corner of Vernon and Interlachen off the Highway 100 exit to 50th St., is a busy intersection. Schaffer says that there are regular wrecks. "We were really aware of the traffic conditions around that intersection," Williford says. "We were hoping that the mural would bring some peace and joy to people traveling through it." Both women are interested in public art and the impact it can have on a place. The idea of bringing something to people's day-to-day that asks them to stop for a minute and appreciate a work of art is something they both talk about. "Art can calm people down," Schaffer says. "It can transform how someone is feeling and create a sense of community."
The pair says they are open to doing other large public art works together … especially any commissions that involve a location near a southern beach at the end of Minnesota winter. "Anyone who has a building in south Florida or southern Mexico that needs a mural should definitely give us a call," Williford says with a laugh.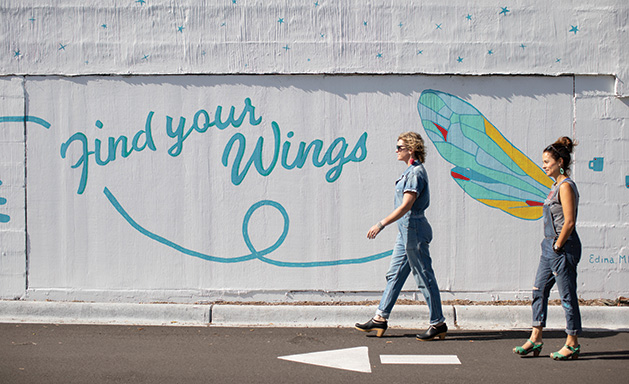 Schaffer
idreamofbirds.com
Instagram: @genevievefabiolaart

Williford
elementalstudio.com
Facebook: Elemental Studio
Instagram: @elemental_studio_mn